Captain Kofi's Candlelight Catfish
By
Paula Deen
JUMP TO RECIPE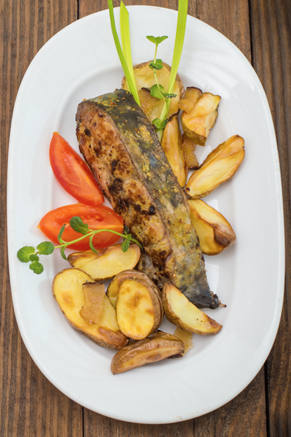 Difficulty: Medium
Prep time: 10 minutes (refrigerate overnight)
Cook time: 45 minutes
Servings: 4-6
Ingredients
1/2 cup Italian seasoning
1 teaspoon seafood seasoning
1/2 teaspoon ground cumin
1 tablespoon hot curry powder
1/4 teaspoon or to taste cayenne pepper
1/2 teaspoon crushed red pepper flakes
1 tablespoon toasted fennel seeds
1 (1 to 2 lb) or 4 catfish steaks (about 1 1/2-inches thick) whole catfish
1/2 cup fresh lemon juice
1/2 cup olive oil
1/2 cup soy sauce
Directions
For the seafood rub:
Combine Italian seasoning, seafood seasoning, cumin, curry powder, cayenne, red pepper and fennel in a bowl and set aside.
Clean the fish, leaving bone in. Drizzle the fish with lemon juice and olive oil. Scatter the rub over the fish and sprinkle with soy sauce. Let marinate, covered, overnight in the refrigerator.
Preheat the grill to medium.
Arrange the fish on the grill and cover with foil. Grill for 15 minutes. Using a broad spatula, carefully turn the fish over and continue to grill, covered, for 20 to 30 minutes.
Transfer the fish to a serving platter and serve.