Cajun Tempura Okra with Scallion Dipping Sauce
By
Paula Deen
JUMP TO RECIPE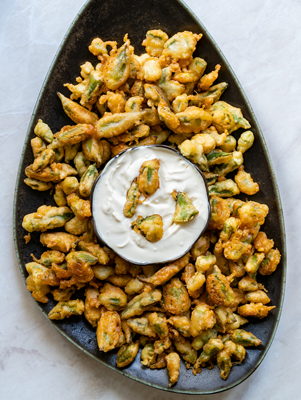 Difficulty: Easy
Prep time: 10 minutes
Cook time: 20 minutes
Servings: 4 to 6 servings
Ingredients
2 cups divided all purpose flour
1 cup cornstarch
1 tablespoon sugar
16 oz soda water
2 lbs stem removed fresh okra
3 tablespoons Cajun seasoning
16 oz sour cream
1 cup chopped scallions
1/4 cup honey
1 teaspoon cayenne pepper
1 teaspoon plus more for seasoning salt
Directions
Whisk 1 cup flour, cornstarch, sugar and soda water together for tempura and let chill.
Heat peanut oil in deep-fryer or a large Dutch oven to 375 °F.
In a shallow pie plate, add 1 cup flour and 1 tablespoon Cajun seasoning and mix well.
Season okra with 2 tablespoons Cajun seasoning. Dip okra in seasoned flour and then in tempura batter and place in oil, 1 at a time and fry until golden, about 4 minutes. Remove to a paper towel lined sheet tray. Season with salt.
Serve with Scallion Dipping Sauce.
Scallion Dipping Sauce:
In a medium sized bowl, whisk together all ingredients.