Country Fried Steak With Milk Gravy
By
Paula Deen
JUMP TO RECIPE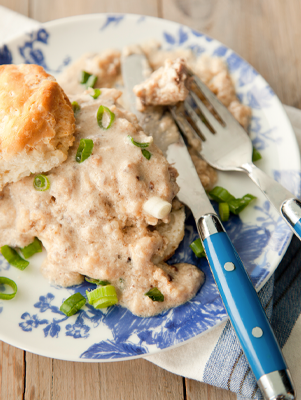 Difficulty: Easy
Prep time: 12 minutes
Cook time: 12 minutes
Servings: 12
Ingredients
1 1/4 cups (plus 2 tablespoons) all purpose flour
1 teaspoon seasoned salt
2 cups buttermilk
1 dash Paula Deen Hot Sauce
8 (4 oz) tenderized beef round steaks
for frying vegetable oil
4 cups whole milk
to taste kosher salt
to taste black pepper
sliced for garnish green onions
for serving buttermilk biscuits
to taste Paula Deen House Seasoning
Directions
Add 1 1/4 cups flour to a pie plate and season with salt, pepper and seasoned salt.
Add buttermilk to a pie plate and season with a few dashes of hot sauce.
Season the meat on both sides with Paula Deen House Seasoning. Dredge the steaks through the buttermilk then the flour.
Add an inch of oil to a large heavy skillet set over medium-high heat. Add steaks to the hot oil in batches and fry until golden and brown, about 5 minutes per side. Drain on a paper towel-lined sheet tray and repeat with remaining steaks.
Reduce the heat to medium and sprinkle 2 tablespoons flour into oil and stir with wooden spoon. Slowly pour in the milk while stirring. Stir gravy until smooth. Season with lots of black pepper. Add the steaks back to the skillet and reduce the heat to low. Cover and simmer for 20 minutes.
Serve on buttered biscuits with sliced green onions.