Cafe Au Lait with Chocolate Dipped Spoons
By
Paula Deen
JUMP TO RECIPE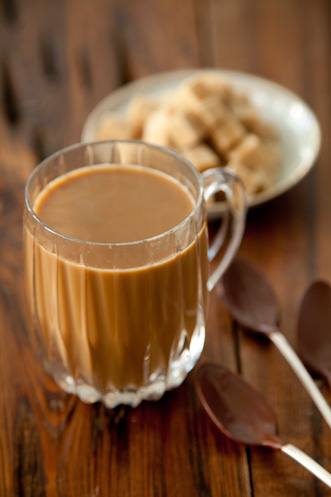 Difficulty: Easy
Prep time: 5 minutes
Cook time: 10 minutes
Servings: 1
Ingredients
2 tablespoons (or more) whipping cream
1 cup hot brewed chicory coffee
sugar cubes
2 cups semisweet chocolate
6 store-bought cookies in the shape of spoons
Directions
Heat the cream in a small saucepan over low heat. Pour the coffee into a mug and add the cream and sugar cubes, to taste. Serve with a Chocolate Covered Spoon.
Chocolate Dipped Spoons:
Melt the chocolate over a double broiler until and stir until smooth. Dip the cookies into the chocolate and transfer them to a parchment paper lined baking sheet to cool and harden.
Yield: 6 cookie spoons