Butterscotch Slice Cookies
By
Paula Deen
JUMP TO RECIPE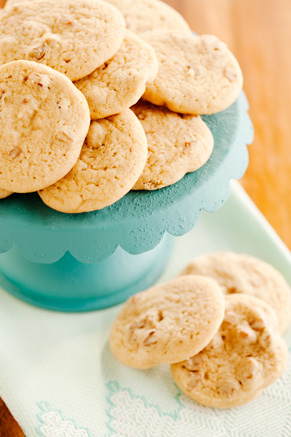 Difficulty: Easy
Prep time: 20 minutes (refrigerate dough overnight)
Cook time: 6 minutes per batch
Servings: 8 dozen
Ingredients
1 cup room temperature butter
2 eggs
2 cups brown sugar
1 teaspoon vanilla
1 cup chopped chopped nuts
3 cups sifted flour
1 teaspoon baking soda
1/4 teaspoon salt
Directions
In a medium mixing bowl, sift together flour, baking soda and salt. Set aside.
In a large mixing bowl using a hand mixer, cream together butter, brown sugar and vanilla. Add eggs one at a time. Add flour mixture one cup at a time and mix well. Stir in chopped nuts.
Place dough on wax paper and form into 2-inch rolls. Refrigerate overnight.
Preheat oven to 375º. Slice into 1/8 inch slices and bake on an ungreased baking sheet for 5 to 6 minutes.
Allow to cool slightly before removing from baking sheet.
Notes from the Paula Deen Test Kitchen: Makes a great cookie to be served with tea or coffee. Dough freezes well. Dough is easier to cut when frozen. If using this method, allow cookies to sit 3-4 minutes on a cool baking sheet before baking.