Buffalo Chicken Po Boys
By
Paula Deen
JUMP TO RECIPE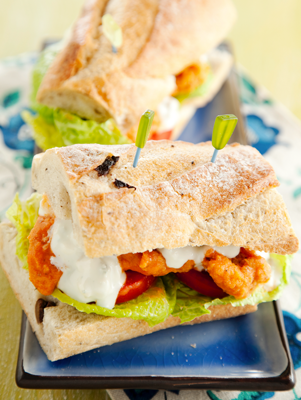 Difficulty: Easy
Prep time: 10 minutes
Cook time: 10 minutes
Servings: 4
Ingredients
8 (leftover or store-bought, crust removed if desired) chicken fingers
1/2 stick plus more for the bread butter
1/2 cup Paula Deen Hot Sauce
1/4 cup blue cheese crumbles
1/2 cup (1/4 - 1/2 cup, to taste) mayonnaise
2 teaspoons milk
1 loaf cut into 4 equal pieces and partially split French bread
1 large (8 slices) tomato
4 leaves romaine lettuce
1 thinly sliced, may substitute Bermuda onion red onion
4 or more, to taste pickle slices
Directions
Preheat oven to 350 º.
Place leftover chicken fingers on a sheet pan and place in oven for 8-10 minutes or until heated through and re-crisped. Transfer to a large bowl.
In a small saucepan, melt butter with hot sauce. Cook 2-3 minutes, stirring frequently. Pour the butter/hot sauce mixture over the chicken and toss to coat.
In a small bowl, combine the blue cheese, mayonnaise and milk. Whisk until smooth.
Place 2 slices of tomato and a romaine leaf into the french bread. Next, place 2 chicken fingers inside the sandwich and drizzle with the creamy blue cheese.