Breakfast Pizza
By
Paula Deen
JUMP TO RECIPE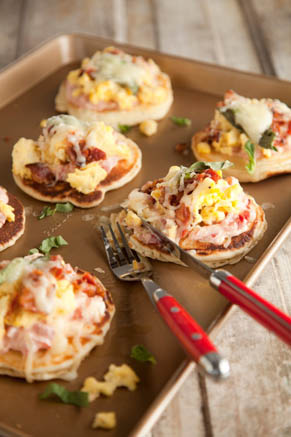 Difficulty: Medium
Prep time: 15 minutes
Cook time: 20minutes
Servings: 6
Ingredients
2 1/2 cups all purpose flour
2 teaspoons baking powder
1/2 teaspoon baking soda
1 teaspoon sugar
7 divided eggs
pinch salt
2 cups milk
1 tablespoon for griddle vegetable oil
1 can diced tomatoes
1 (8 oz) package room temperature cream cheese
1 tablespoon sour cream
1 tablespoon for skillet, plus more for serving butter
7 slices cooked and chopped bacon
1 cup shredded mozzarella cheese
2 tablespoons chiffonade fresh basil leaves
maple syrup
Directions
Heat a nonstick griddle over medium heat while you prepare the pancake batter.
Combine the flour, baking powder, baking soda, sugar and salt in medium bowl. Whisk 2 eggs and milk together in another bowl until combined.
Whisk the dry ingredients to the wet ingredients and gently mix until incorporated.
Add the oil to the hot griddle and spread evenly to coat the bottom of the pan. Ladle about 1/3 cup of batter to the pan and cook the pancake for about 2 minutes. Flip the pancake and cook until brown on the other side, roughly 1 to 2 minutes longer. Transfer pancake to a plate. Repeat with remaining batter and set pancakes aside for assembly.
For the sauce:
In a medium bowl, combine tomatoes and cream cheese. Set aside until assembly.
For scrambled eggs:
Preheat a large nonstick skillet over medium heat for 1 minute.
Crack 5 eggs into a large mixing bowl and whisk in sour cream; season with salt and pepper. Add butter to the hot skillet and allow to melt.
Add the eggs and reduce heat to medium-low. Scramble until cooked through, about 2 to 3 minutes. Stir in the bacon and set aside for assembly.
For assembly:
Preheat oven to 400 °F.
Place the pancakes on a sheet pan. Spread marinara sauce on each pancake and top with scrambled eggs and bacon. Sprinkle with basil and mozzarella cheese and place in the oven for 3 minutes or until cheese melts. Transfer to individual dishes and serve with butter and maple syrup.