Bread and Butter Custard
By
Paula Deen
JUMP TO RECIPE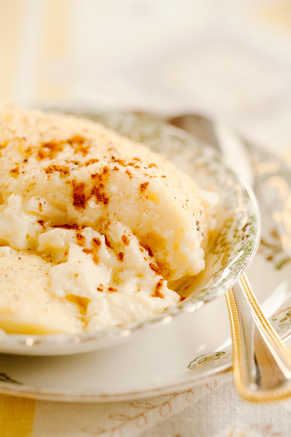 Difficulty: Easy
Prep time: 20 minutes
Cook time: 40 minutes
Servings: 6
Ingredients
4 to 5 thin slices crusts removed white bread
2 tablespoons room temperature butter
4 cups whole milk
6 large eggs
1 cup sugar
1 teaspoon vanilla
to dust on top of custard ground nutmeg
to dust on top of custard ground cinnamon
Directions
Pre heat oven to 325ºF.
Butter each piece of bread and place butter side up in a single layer in a 9 x 13 baking dish. In a medium sauce pan, scald milk over medium heat until bubbles appear. In a large mixing bowl slightly beat eggs. Stir in sugar and vanilla and whisk. Very slowly whisk in hot milk. Pour over bread in baking dish. Sprinkle with nutmeg and cinnamon. Place baking dish in the center of a pan of hot water as high as the baking dish. Bake for 40 minutes or until knife comes our clean.
Note: Recipe works best with whole milk, preventing custard from being watery. Serve warm or cold.