Sweet Potato Bread Pudding with Pecan Crumble
By
Paula Deen
JUMP TO RECIPE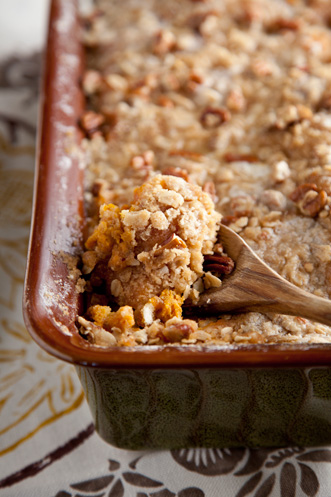 Difficulty: Medium
Prep time: 15 minutes
Cook time: 15 minutes
Servings: 15
Ingredients
2 cups whole milk
1/2 cup sugar
1 1/2 cup firmly packed and divided brown sugar
1 1/2 cups pureed sweet potato
2 teaspoons vanilla extract
1/2 teaspoon ground cinnamon
1/4 teaspoon ground nutmeg
6 egg yolks
2 (1 lb, 4 oz) loaves crusts removed white bread
1 cup all purpose flour
1 stick cold diced (plus more for pan) unsalted butter
1/2 cup quick cooking oats
1/2 cup toasted and chopped pecans
Directions
Preheat the oven to 350 °F. Generously butter a 13 by 9-inch baking dish.
In a medium saucepan, combine the milk, sugar and 1/2 cup brown sugar divided, sweet potato puree, vanilla, cinnamon and nutmeg. Cook over medium-high heat, just until the mixture begins to boil. Remove from the heat and set aside.
In a medium bowl, whisk the egg yolks until smooth and combined. Using a ladle, pour 1/2 cup of the hot milk mixture in a slow, steady stream into the yolks, whisking constantly. Add another 1/2 cup of the hot milk mixture and whisk to combine. Pour the egg mixture into the milk mixture. Cook over medium-high heat, stirring constantly, until it's thick enough to coat the back of a wooden spoon, about 3 to 5 minutes. Strain the custard and reserve.
Cover the bottom of the baking dish with 1 layer of bread slices. Pour about 1/4 of the custard mixture over the bread. Repeat with remaining bread and custard, ending with custard. Cover and refrigerate for 8 hours or overnight.
Sprinkle the bread pudding with the pecan crumble. Bake until the crumble mixture is golden and the custard is bubbly, about 45 minutes. Serve warm.
Pecan Crumble:
In a medium bowl, combine flour, 1 cup brown sugar, butter, oats and pecans and mix with a hand mixer on low speed, until well combined.