Braised Beef Brisket
By
Paula Deen
JUMP TO RECIPE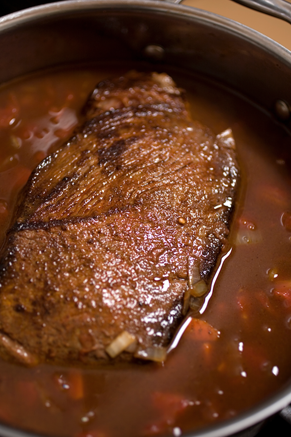 Difficulty: Easy
Prep time: 10 minutes
Cook time: 3 hours 25 minutes
Servings: 8-12
Ingredients
1 3 1/2 lb trimmed beef brisket
1 teaspoon salt
1 teaspoon freshly ground black pepper
3 tablespoons olive oil
3 large thinly sliced Vidalia onions
2 cups dry red wine
2 tablespoons chopped fresh rosemary
2 bay leaves
1 (28 oz) can diced tomatoes
2 tablespoons all purpose flour
Directions
Preheat the oven to 325 °F.
Sprinkle the brisket evenly with the salt and pepper. In a large Dutch oven, heat the olive oil over medium-high heat. Add the brisket and cook until browned on each side, about 2 minutes. Remove the brisket from the Dutch oven and set aside. Add the onions to the Dutch oven and cook for 10 to 15 minutes. Stir frequently until the onions are tender and caramel colored. Stir in the wine, rosemary, bay leaves and diced tomatoes.
Return the brisket to the Dutch oven, cover and bake in the oven for 3 hours or until the meat is very tender.
Remove the brisket from the cooking liquid, set aside and keep warm. Remove 1/2 cup tomato mixture to a small bowl and whisk in the flour until smooth. Add the flour mixture to the Dutch oven. Bring to a boil over medium-high heat and cook, stirring frequently, until thickened, 2 to 3 minutes.
Cut the brisket across the grain into thin slices and serve with the tomato sauce.