Boy Scout Baked Apples
By
Deen Brothers
JUMP TO RECIPE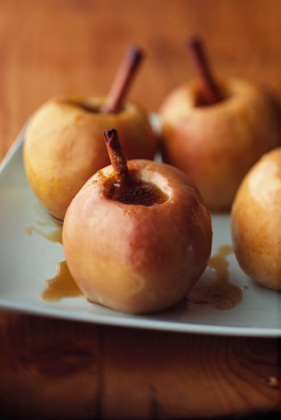 Featured in:
The Deen Bros. Recipes from the Road
Difficulty: Easy
Prep time: 5 minutes
Cook time: 30 minutes
Servings: 4
Ingredients
4 apples
4 tablespoons packed dark brown sugar
4 teaspoons unsalted butter
4 cinnamon sticks
8 whole cloves
Directions
Preheat oven to 375°F. Put 1 tablespoon brown sugar in the center of each apple; top each with 1 teaspoon butter. Insert a cinnamon stick into the brown sugar-filled center and stick 2 cloves into the sides of each apple.
Wrap apples individually with foil and place in a small roasting pan. Bake about 30 minutes or until just tender.