Bo's Eggplant Supreme
By
Paula Deen
JUMP TO RECIPE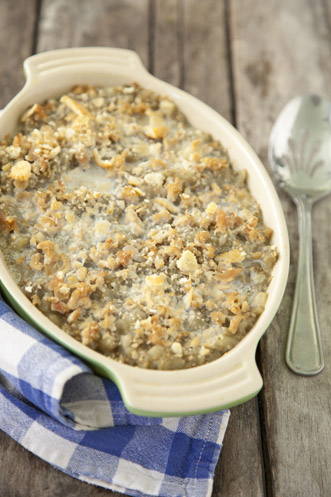 Difficulty: Easy
Prep time: 10 minutes
Cook time: 45 minutes
Servings: 4-6
Ingredients
1 (10 oz) can drained, juice reserved minced clams
5 tablespoons butter
1 teaspoon Paula Deen's House Seasoning
2 large eggplant
1 cup cracker crumbs
1/2 cup half and half
Directions
Preheat oven to 350 °F.
Peel the eggplant and cut it into thin rounds. Bring a pot of water to boil. Add the House Seasoning, then the eggplant, and cook for 10 to 15 minutes, or until tender. Drain the eggplant well and mash it with 3 tablespoons of the butter.
In a greased casserole, layer the mashed eggplant, the clams and the cracker crumbs. Dot with the remaining 2 tablespoons of butter.
Blend the half and half with the reserved clam juice. Taste and add salt, if needed. Pour mixture over the casserole, but be sure to use only enough liquid to fully saturate the dish, otherwise, the dish will become too soupy. Bake for 30 minutes.