Bobby's Special Seared and Baked Thick-Cut Pork Chops
By
Deen Brothers
JUMP TO RECIPE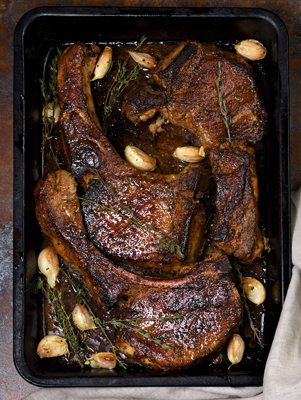 Featured in:
The Deen Bros. Y'all Come Eat
Difficulty: Easy
Servings: 4
Ingredients
4 12-ounce bone-in pork chops
1 clove garlic
Salt
Freshly ground black pepper
3 tablespoons extra virgin olive oil
Directions
Preheat oven to 350®F. Rub each chop all over with the cut sides of the garlic halves and season with salt and pepper. In a large ovenproof skillet, heat the oil over medium-high heat until shimmering. Sear the chops in the oil 3 minutes per side or until paper-sack brown.
Transfer the pan to the oven and cook for 4 minutes more. Let chops stand for 5 minutes before serving.