Bobby's Lighter Chicken and Asparagus Crepes
By
Deen Brothers
JUMP TO RECIPE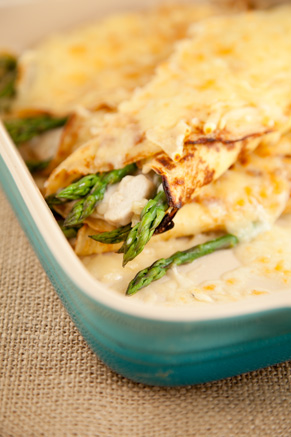 Difficulty: Easy
Prep time: 10 min
Cook time: 25 min
Servings: 4
Ingredients
1 10 3/4-ounce can fat-free cream of mushroom soup
1/2 cup water
2 teaspoons olive oil
1 8-ounce package mushrooms
1 small onion
2 cups cooked
1/4 cup dry white wine
4 9-inch ready-to-use crepes
8 asparagus spears
1/2 cup reduced-fat shredded Swiss cheese
Directions
Preheat oven to 350°F. Spray a 9 x 13-inch baking pan with nonstick spray.
Whisk together the soup and water in a large measuring cup until blended and smooth; set aside.
Heat the oil in a large nonstick skillet over medium-high heat. Add the mushrooms and onion. Cook, stirring occasionally, until tender, 5-6 minutes. Add the chicken, wine, and 1/2 cup of the soup mixture; bring to a boil. Reduce the heat and simmer 2 minutes. Remove from the heat.
Spoon 1/2 cup chicken mixture down center third of each crepe. Place 2 asparagus spears over the chicken mixture. Fold edges of crepe over filling and place, seam-side down, in the baking dish. Spoon the remaining soup mixture over the top of the crepes and sprinkle with the cheese.
Bake, loosely covered with a tent of foil, until the cheese is melted and the crepes are hot, about 20 minutes.