Bobby's Lighter Baked Spaghetti
By
Bobby Deen
JUMP TO RECIPE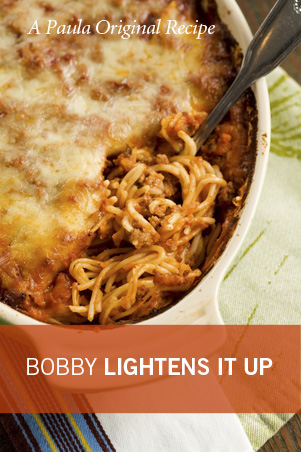 Difficulty: Easy
Prep time: 10 minutes
Cook time: 10 minutes
Servings: 10
Ingredients
6 oz whole wheat angel hair pasta
2 teaspoons olive oil
1 finely chopped onion
1 diced green bell pepper
1/4 cup water
1 lb casings removed sweet Italian chicken sausage
1 (28 oz) can crushed tomatoes
1/2 teaspoon Paula Deen Seasoned Salt
1/4 teaspoon Italian seasoning
1 cup shredded reduced fat cheddar cheese
Directions
Prepare pasta according to package directions; drain.
Heat the oil in a large nonstick skillet. Add the onion and bell pepper and cook until crisp-tender, 2 – 3 minutes. Add water and continue cooking, stirring occasionally, until the vegetables are tender, about 8 minutes. Add the sausage and cook, breaking it up with a wooden spoon, until browned, 6 – 8 minutes. Stir in the tomatoes, seasoned salt, and Italian seasoning; bring to a boil. Reduce the heat and simmer, covered, until the flavors are blended, about 15 minutes.
Preheat the oven to 375º. Spray a 1 1/2-quart casserole with nonstick spray.
Add the cooked pasta to the skillet, tossing well to combine. Spoon half the pasta mixture into the casserole. Sprinkle with 1/2 cup cheese. Spoon the remaining pasta mixture over top. Sprinkle with the remaining 1/2 cup cheese. Cover loosely with a tent of foil sprayed with nonstick spray. (Do not let foil touch cheese). Bake until the filling is hot and bubbly and the cheese is melted, 20 – 25 minutes. Let stand 5 minutes before serving.