Blueberry Chocolate Chunk Cupcakes
By
Stefani Pollack
JUMP TO RECIPE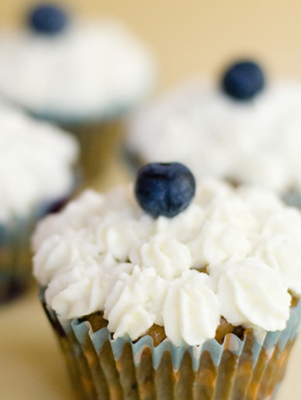 Difficulty: Easy
Prep time: 20 minutes
Cook time: 25 minutes
Servings: 12
Ingredients
1 2/3 cups all purpose flour
1/2 teaspoon baking powder
1/4 teaspoon baking soda
2 large eggs
1/2 cup plus 1/3 cup divided sugar
1/4 cup maple syrup
1/4 cup room temperature unsalted butter
1/4 cup apple butter
1/2 cup milk
6 oz plus more for garnish blueberries
1 cup any variety granola
1 cup dark chocolate chunks or chips
1 cup heavy whipping cream
Directions
For the Cupcakes:
Preheat oven to 350º.
Mix the flour, baking powder and baking soda in a small bowl and set aside.
In a large bowl, mix the eggs and 1/2 cup sugar until light and creamy.
Mix in the maple syrup, butter and apple butter.
Mix in the dry ingredients until just integrated.
Mix in the milk until smooth.
Fold in blueberries, granola and chocolate chunks.
Divide batter evenly between twelve cupcake liners.
Bake for twenty-five minutes or until the tops bounce back when lightly touched.
For the Whipped Cream Frosting:
Whip heavy whipping cream and 1/3 cup sugar until light and fluffy.
Optionally decorate with a fresh blueberry.