Black and White Cookies
By
Paula Deen
JUMP TO RECIPE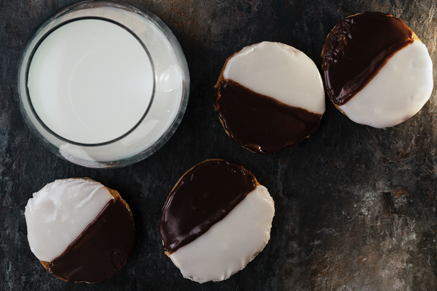 Difficulty: Medium
Prep time: 15 minutes
Cook time: 35 minutes
Servings: 20 cookies
Ingredients
2 1/2 cups cake flour
2 1/2 cups all purpose flour
1 teaspoon baking powder
2 sticks room temperature butter
1 3/4 cups sugar
4 large eggs
1 cup milk
1 teaspoon vanilla extract
1/3 cup boiling water
4 cups confectioner's sugar
1 oz melted bittersweet chocolate
Directions
Preheat oven to 375 °F.
In a medium mixing bowl, stir together the cake flour, all-purpose flour and baking powder; set aside. In a large mixing bowl, cream the butter and sugar together with an electric mixer until light and fluffy. Beat in the eggs, 1 at a time. Then beat in the milk and vanilla. Gradually, beat the dry ingredients into the wet. Drop tablespoonfuls of the cookie batter onto parchment paper lined sheet pans, 2-inches apart. Bake for approximately 25 minutes until the edges of the cookies just begin to brown..
Meanwhile, make the icing. In a large mixing bowl, stir the boiling water into the confectioners' sugar, 1 tablespoon at a time, until the mixture is spreadable but still thick. Transfer half of the icing to another mixing bowl and stir in the melted chocolate.
When the cookies are done let them cool completely. Spread half of the flat side (baked side down) of the cookies with white icing and the other half with the chocolate icing. Let the cookies dry and harden completely.