Paula Deen Cuts the Fat Better-Than-Basic Meat Loaf
By
Paula Deen
JUMP TO RECIPE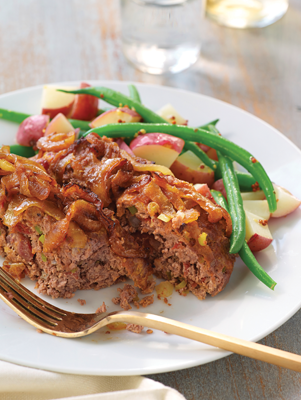 Featured in:
Paula Deen Cuts the Fat
Difficulty: Easy
Prep time: 20 minutes
Cook time: 45 minutes
Servings: 4
Ingredients
1 pound extra-lean ground beef
½ cup finely chopped yellow onion
½ cup finely chopped yellow onion
1 large egg, lightly beaten
1 (14½-ounce) no-salt-added diced tomatoes, drained well
½ cup finely grated Parmesan cheese
1 teaspoon salt, plus more to taste
¼ teaspoon freshly ground black pepper, plus more to taste
1 teaspoon olive oil
1 large Spanish or Vidalia onion, sliced in half, then cut into ¼-inch slices
1½ tablespoons Dijon mustard
Directions
Preheat the oven to 375°F.
In a large bowl, combine the beef, yellow onion, bell pepper, egg, diced tomatoes, Parmesan, salt, and black pepper. Mix well with your hands. Place the mixture in a baking dish big enough to hold the meat loaf. Shape the meat mixture into a loaf about 8 by 3 inches. Bake for 30 minutes.
Meanwhile, in a large skillet, heat the oil over medium heat. Add the Spanish onion, season to taste with salt and pepper, and stir. Cook, covered, for 10 minutes, stirring once or twice, until the onions are very soft. Uncover and continue cooking, stirring frequently, until golden brown, about 15 minutes more.
Remove the meat loaf from the oven and spread the mustard over the top. Sprinkle over the caramelized onions and continue baking for 15 minutes more until the meat loaf is well browned and the internal temperature registers 155°F to 160°F on an instant- read thermometer.