Paula Deen Cuts the Fat Better Burgers
By
Paula Deen
JUMP TO RECIPE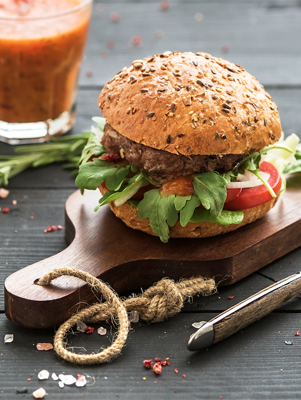 Featured in:
Paula Deen Cuts the Fat
Difficulty: Easy
Prep time: 5 minutes
Cook time: 7 minutes
Servings: 6
Ingredients
2 pounds extra-lean ground beef
2 tablespoons olive oil
1 tablespoon Worcestershire sauce
1 tablespoon dried minced onion
salt, to taste
freshly ground black pepper, to taste
6 white or whole-wheat hamburger buns
6 tomato slices, for serving
6 lettuce leaves, for serving
Directions
In a large bowl, combine the beef, oil, Worcestershire sauce, minced onion, and salt and pepper to taste. Form into 6 patties.
Heat a large nonstick skillet over medium heat. Add the burgers to the pan and cook, turning once, until the burgers reach the doneness you like, about 7 minutes for medium- rare.
Sandwich the burgers inside the buns with the tomato and lettuce. And don't forget to pass the ketchup and mustard!