Benne Seed Cookies
By
Paula Deen
JUMP TO RECIPE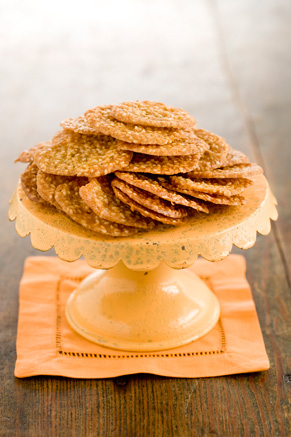 Difficulty: Medium
Prep time: 20 minutes
Cook time: 14 to 15 minutes
Servings: 12 dozen
Ingredients
1 1/2 cups sesame seeds
1 (1 lb) box (2 1/2 cups, packed) light brown sugar
1 1/2 cups at room temperature butter
2 large eggs
2 cups all purpose flour
1 teaspoon baking powder
1/4 teaspoon salt
2 teaspoons vanilla extract
Directions
Preheat oven to 350 °F.
If you're using raw sesame seeds, place the seeds in a single layer on a baking sheet. Place in the oven for about 3 minutes, watching carefully. They should just begin to brown lightly. Set aside to cool completely.
Lower the oven temperature to 300 °F Line cookie sheets with parchment paper.
Using an electric mixer, cream the sugar, butter and eggs until very light, about 5 minutes. Sift the flour, baking powder and salt. Add to the butter mixture and stir with the spatula until combined. Add the vanilla. Stir in the cooled sesame seeds. Drop the batter by 1/2 teaspoonfuls onto the prepared cookie sheets, 1 inch apart. It takes just a dab of batter to produce quarter-sized cookies. They will spread into perfect circles during baking.
Bake until very brown but not burned at the edges, about 14 to 15 minutes. Important: Let the cookies cool completely on the parchment paper, then peel them away from the paper. Store between layers of waxed paper in an airtight container. These cookies freeze well in tins. They will crumble in a plastic freezer bag.
This recipe is one of our Gifts from the Kitchen. Click here to see other Gifts from the Kitchen.