Banana-Walnut Popovers
By
Stefani Pollack
JUMP TO RECIPE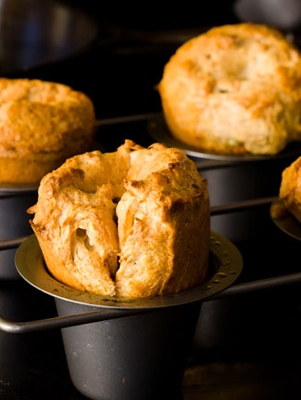 Difficulty: Medium
Prep time: 20 minutes
Cook time: 40 minutes
Servings: 6
Ingredients
¾ cup flour
pinch of salt
3 large eggs, room temperature
¾ cup whole milk
1 tablespoon unsalted butter, melted
2 tablespoons mashed ripe bananas
2 tablespoons finely chopped walnuts
½ teaspoon cinnamon
1 teaspoon vanilla
2 tablespoons unsalted butter, cold
Directions
Preheat oven to 425˚ F.
In a medium-sized mixing bowl, mix all ingredients except the cold butter until fully combined.
Cut the cold butter into six equal parts and drop them in the bottom of each popover cup in a six cup popover pan.
Heat the popover pan in the oven for about three minutes, or until the butter bubbles.
Remove the pan from oven and, using a pastry brush, carefully spread some of the butter up the sides of each cup.  Note: There will still be a pool of butter at the bottom of each cup.
Ladle the batter into each cup (the cups should be filled about halfway full).
Bake for 20 minutes.
Reduce heat to 325 and bake for another 15 minutes.  Important: Do NOT open the oven at any point during the baking.  This will let the steam out and hurt your end result.
Immediately remove hot popovers from the tins.
Allow them to cool for a few minutes and eat while still hot.  If not eating immediately, wait for the popovers to cool completely, then store in an airtight container.