Baked Pimiento Cheese Dip
By
Paula Deen
JUMP TO RECIPE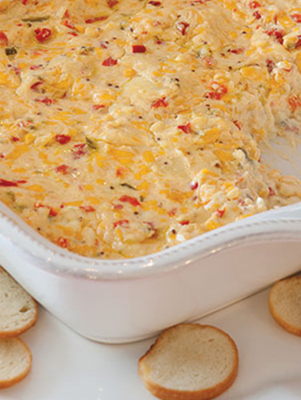 Featured in:
Cooking with Paula Deen Magazine
Difficulty: Easy
Prep time: 10 minutes
Cook time: 20 minutes
Servings: Makes 3 cups
Ingredients
6 ounces cream cheese, softened
½ cup mayonnaise
2 cups shredded sharp cheddar cheese
1 (4-ounce) jar diced pimientos, drained
⅓ cup sliced green onion
1 jalapeño, seeded and minced
2 tablespoons capers, drained
1 tablespoon Dijon mustard
1 tablespoon fresh lemon juice
½ teaspoon Paula Deen Hot Sauce
½ teaspoon Worcestershire sauce
⅛ teaspoon Kosher salt
⅛ teaspoon ground black pepper
toasted baguette slices
sliced green onions, for garnish
pimientos, for garnish
Directions
Preheat oven to 400˚F.
In a medium bowl, stir together cream cheese and mayonnaise until smooth; stir in Cheddar, pimientos, green onion, jalapeño, capers, mustard, lemon juice, hot sauce, Worcestershire, salt, and pepper. Spoon mixture into a 1-quart baking dish.
Bake until hot and bubbly, about 20 minutes. Serve with baguette slices. Garnish with green onion and pimientos, if desired.