Baked Crescent Sandwiches
By
Paula Deen
JUMP TO RECIPE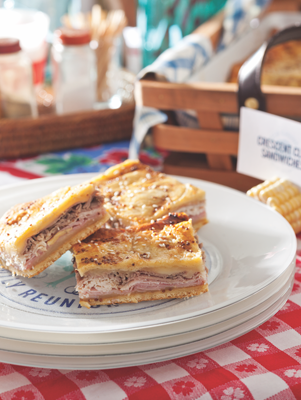 Featured in:
At the Southern Table
Get your copy of At the Southern Table with Paula Deen here.
Difficulty: Easy
Prep time: 15 minutes
Cook time: 40 minutes
Servings: 12
Ingredients
2 (8-ounce) cans refrigerated crescent dough sheets
1/4 cup butter, melted
2 tablespoons whole-grain Dijon mustard
1 tablespoon Worcestershire sauce
1 (8-ounce) package sliced provolone cheese
1/2 pound thinly sliced deli ham
1/2 pound thinly sliced deli turkey
1/2 pound thinly sliced deli roast beef
1 (8-ounce) package sliced mozzarella cheese
sesame seeds
Directions
Preheat oven to 375°. Lightly spray a 13×9-inch baking pan with cooking spray.
Unroll 1 can of crescent dough, and press into bottom of prepared pan. Bake for 10 minutes.
In a small bowl, stir together melted butter, mustard, and Worcestershire; brush half of mixture onto baked crescent crust. Layer with provolone, ham, turkey, roast beef, and mozzarella. Unroll remaining can of crescent dough on top of mozzarella. Brush remaining butter mixture onto dough, and sprinkle with sesame seeds. Cover with foil.
Bake for 15 minutes. Uncover and bake until golden brown, 10 to 15 minutes more. Let cool for 15 minutes; cut into squares to serve.