Bacon Onion Pie
By
Paula Deen
JUMP TO RECIPE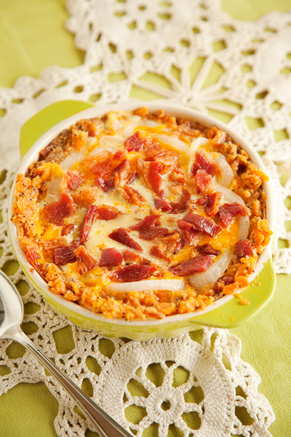 Difficulty: Medium
Prep time: 30 minutes
Cook time: 45 minutes
Servings: 8
Ingredients
1 cup cheese cracker crumbs
1/4 cup melted butter
3 to 4 slices drippings reserved, plus 6 to 8 slices for the filling, all cooked and crumbled bacon
2 tablespoons (optional) poppy seeds
3 cups sliced thinly onion
1 cup grated cheddar cheese
3 slightly beaten eggs
1/2 teaspoon pepper
1 cup milk
Directions
Preheat oven to 350 °F.
Combine cracker crumbs, 3-4 slices crumbed bacon, butter and poppy seeds and press into 8-inch pie plate. Bake for 10 minutes and set aside. In a large sauté pan, sauté onion slices in reserved bacon drippings until tender. In a small thick bottom saucepan scald milk. (Note: Scalding means bringing the milk nearly to a boil, being sure to stir so the proteins of the milk don'™t stick to the bottom of the pan.) In a medium mixing bowl beat eggs and add salt and pepper to taste. Temper the eggs by slowly adding the scalded milk to the egg mixture while whisking. (Note: Tempering is a term used for gradually bringing the temperature of the two mixtures together.)
To assemble pie, place cooked onions on top of baked crust. Now add crumbled bacon (6-8 slices) and grated cheese. Pour egg mixture on top and bake 45 minutes or until the egg mixture is firm. Allow the pie to set 10 minutes after baking. This will make the pie easy to slice.
Notes From the Kitchen: We found the crust to be crumbly and increased the butter by 1 tablespoon to prevent. Held up well in the refrigerator for up to 2 days. A big hit in the test kitchen. You will love this dish!