Backfield BLT Dip
By
Deen Brothers
JUMP TO RECIPE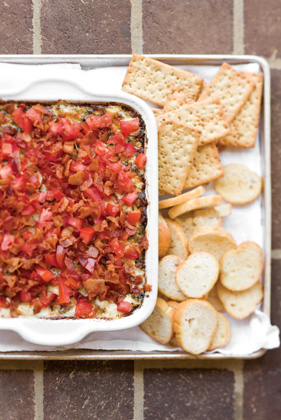 Difficulty: Easy
Prep time: 10 minutes
Cook time: 30 minutes
Servings: 8 to 10 Servings
Ingredients
1 pound bacon
2 8-ounce packages cream cheese
2 cups shredded mozzarella cheese
2 cups shredded fontina cheese
1 10-ounce package frozen chopped spinach
1/2 cup sour cream
1/2 cup mayonnaise
2 tablespoons Dijon mustard
11/2 cups chopped seeded tomatoes
Toasted bread rounds
Directions
1 Preheat oven to 350. Spray a 1 1/2-quart baking dish with nonstick cooking spray.
2 Set aside 1/2 cup crumbled bacon.
3 In a large bowl, combine remaining bacon, cream cheese, shredded cheeses, spinach, sour cream, mayonnaise, and Dijon mustard. Spoon mixture into prepared baking dish. Bake for 25 to 30 minutes or until hot and bubbly. Sprinkle chopped tomatoes and remaining 1/2 cup crumbled bacon over hot dip. Serve immediately with toasted bread rounds and crackers.