Jalapeño Bottle Caps With Blue Cheese Dip
By
Paula Deen
JUMP TO RECIPE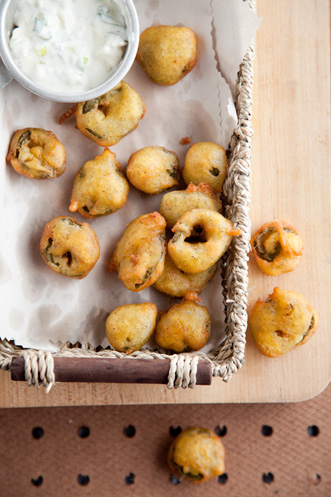 Difficulty: Easy
Prep time: 20 minutes
Cook time: 10 minutes
Servings: 24 pieces
Ingredients
Jalapeño Bottle Caps
peanut oil, for frying
1 cup fry mix (recipe follows)
8 tablespoons beer
3 (3.5-oz) jalapeño peppers, trimmed, seeded, and sliced crosswise 1/4-inch thick
Fry Mix
3 cups self-rising flour
1/2 cup self-rising white cornmeal
1 teaspoon Salt
1 teaspoon crushed black pepper
Blue Cheese Dip
1/2 cup sour cream
1/4 cup mayonnaise
1 teaspoon salt
1/2 teaspoon black pepper
1/2 cup (2 oz) blue cheese, crumbled
1/2 cup green onions (white and light green parts), finely chopped
Directions
Jalapeño Bottle Caps
Heat the oil in a deep skillet to 375º.
While the oil heats up, combine the fry mix with the beer, stirring until smooth. Toss the jalapeño slices in the batter. Using a slotted wooden spoon or tongs, carefully lower the jalapeño slices into the oil. Fry for about 2 minutes, turning them often to brown evenly. Drain on a paper towel-lined plate and season with salt. Serve immediately with Blue Cheese Dip.
Fry Mix
Place all ingredients into a bowl and mix.
Blue Cheese Dip
Combine the sour cream, mayonnaise, salt and pepper. Fold in the blue cheese and green onions. Cover and refrigerate until ready to use.