Need a healthy new way to prepare the abundance of zucchini you have growing in your garden while also satisfying your craving for fried foods? Well, look no more! Try out our Crispy Zucchini Fries! The crunchy texture and mellow zucchini flavor is sure to be a family favorite.
Ingredients hints and tricks
We like to use smaller zucchini because they are sweeter and have fewer seeds. If you cannot find Panko breadcrumbs you can substitute in regular dried breadcrumbs with no problem. We just prefer the extra crunchy texture that panko brings to the dish. Smoked paprika can be easily found nowadays at most grocery stores. We like it for its smoky deep flavor. If you only have regular paprika use that as a substitute with a tiny dash of cayenne.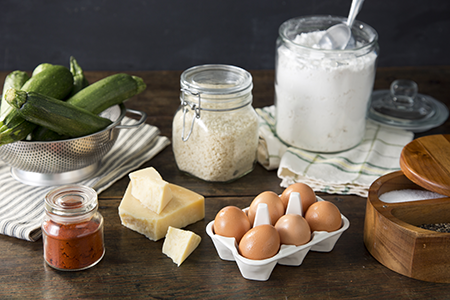 Step 1: 

First gather your ingredients; you'll need flour, paprika, Parmesan cheese, zucchini, panko bread crumbs, salt and pepper.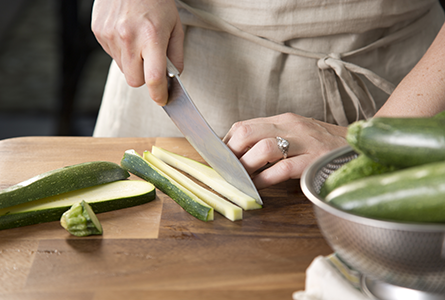 Step 2:
Trim your zucchini into a fry like shape. We cut ours into ½ inch thick strips about 4 inches long.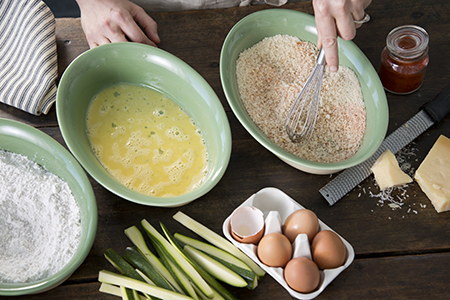 Step 3:
Set up your standard breading procedure: in the first casserole dish add flour and season with salt and pepper. In a second casserole dish add the eggs and whisk until smooth. In a third casserole dish add the panko breadcrumbs, grated Parmesan, smoked paprika, and another good pinch of salt and pepper.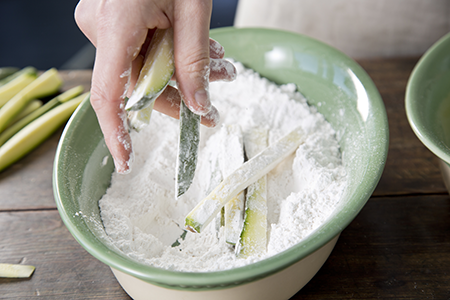 Step 4:
Gently toss the zucchini, in bathes, first through the flour. This "dries" the zucchini so the next layer can adhere to the zucchini (which would be the egg). After you flour the zucchini, dip into the beaten egg until coated. Let the excess egg drip off the zucchini.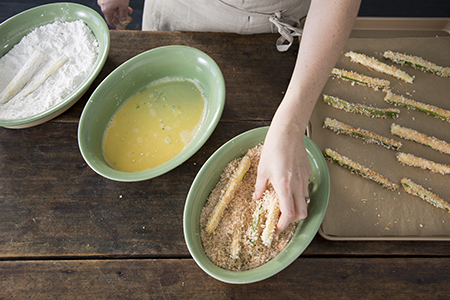 Step 5: 
After coating the zucchini with egg gently toss it through the panko breadcrumbs.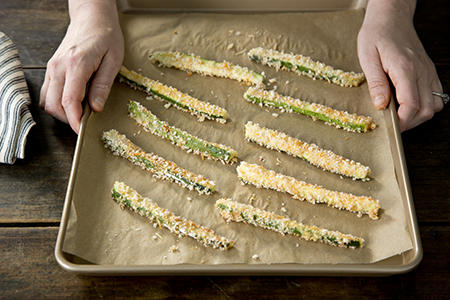 Step 6:
Add the zucchini to a parchment lined sheet tray, leaving ample room between each fry so it has room to crisp up form the heat of the oven. Give the zucchini a light spritz with some non-stick spray and sprinkle again with some salt.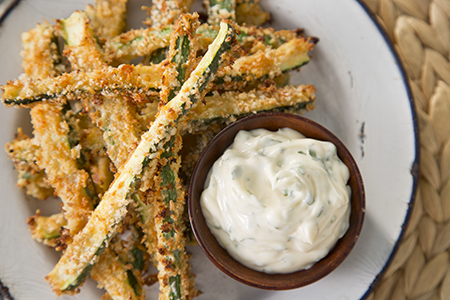 Step 7:
Enjoy your zucchini fries hot with a side of some garlicky mayo!
½ cup all purpose flour
1 beaten egg with 1 egg white
½ cup panko breadcrumbs
¼ cup grated fresh Parmesan cheese
½ teaspoon smoked paprika
Kosher salt and fresh ground black pepper
2 zucchini, sliced into ½ inch thick and 4 inches long
Cooking spray
Garlic herb mayo, recipe follows
Preheat oven to 425 degrees.
Add flour to a pie plate and whisk in some salt and pepper.
Beat the eggs together in another pie plate.
In a third pie plate, whisk together the panko, Parmesan, smoked paprika, and another big pinch of salt and pepper.
Dip the zucchini in the flour, then in egg, and then through the breadcrumb mixture. Place on a sheet tray and spritz with non-stick spray. Bake for 10 minutes, then flip, and continue cooking for 10 minutes more, until golden and crisp.
Serves 4
½ cup reduced fat mayonnaise
2 cloves garlic, finely chopped
1 tablespoon chopped parsley and chives
Kosher salt and freshly ground black pepper, to taste
Combine all ingredients to a bowl.
Makes about ½ cup.
Nutritional Information for Zucchini Fries (excluding Garlic Herb Mayo)
Calories per serving: 73
Total fat: .4 g
Total Carbohydrates: 15.3 g
Dietary fiber: 1.6g
Sugars 1.8 g
Protein 2.8 g