Crispy Oven Zucchini Fries
By
Paula Deen
JUMP TO RECIPE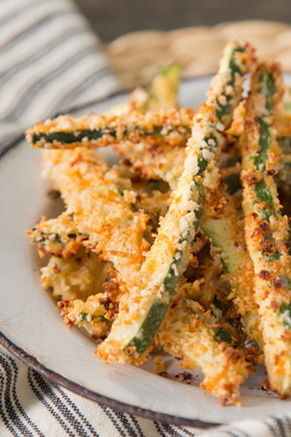 Difficulty: Easy
Prep time: 15 minutes
Cook time: 15 minutes
Servings: 15
Ingredients
1/2 cup all purpose flour
1 beaten, with 1 egg white egg
1/2 cup panko bread crumbs
1/4 cup fresh grated Parmesan cheese
1/2 teaspoon smoked paprika
kosher salt
fresh ground black pepper
2 sliced into 1/2 inch thick and 4 inches long zucchini
cooking spray
Directions
Preheat oven to 425 °F
Add flour to a pie plate and whisk in some salt and pepper. Beat the eggs together in another pie plate.
In a third pie plate, whisk together the panko, Parmesan, smoked paprika, and another big pinch of salt and pepper.
Dip the zucchini in the flour, then in egg, and then through the breadcrumb mixture. Place on a sheet tray spritzed with non-stick spray. Bake for 10 minutes, flip, and continue cooking for 10 minutes more until golden and crisp.