White Chocolate-Coconut Cookies
By
Paula Deen
JUMP TO RECIPE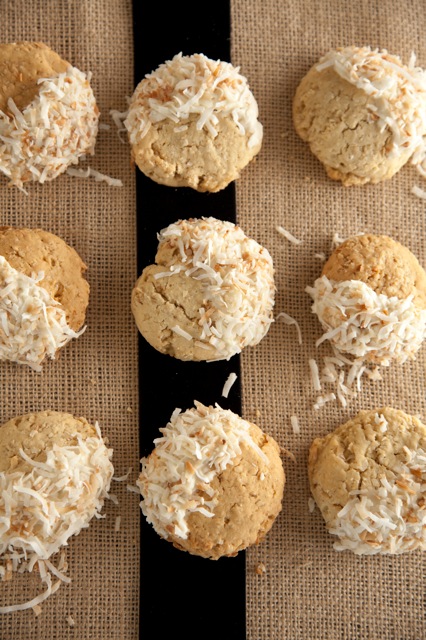 Difficulty: Easy
Prep time: 10 minutes
Cook time: 10 minutes
Servings: 30
Ingredients
1 teaspoon baking powder
1 teaspoon baking soda
2 1/4 cups all purpose flour
1/2 teaspoon salt
2 sticks softened butter
1/2 cup packed light brown sugar
1 egg
1 teaspoon vanilla extract
1 cup quick cooking oats
3/4 cup plus 3/4 cup toasted for garnish shredded coconut flakes
8 oz melted white chocolate
Directions
Preheat oven to 350 °F.
In a small mixing bowl, whisk together the baking powder, baking soda, flour and salt. In a large mixing bowl, cream the butter and brown sugar together until light and fluffy with a hand held electric mixer. Beat in the egg. Add the dry ingredients and beat until just combined. Fold in the oats, vanilla extract and 3/4 cup shredded coconut flakes.
Form walnut-sized balls of the mixture and drop 2 inches apart onto parchment paper-lined sheet pans. Bake in a preheated oven for about 10 minutes until the bottoms of the cookies are golden brown. Remove from oven and cool completely.
When the cookies are cool, dip them halfway into the melted white chocolate and then into toasted shredded coconut flakes. Set them down onto parchment paper-lined sheet pans to dry completely. Makes about 2 1/2 dozen cookies.