White Chocolate Amaretto Cupcakes
By
Stefani Pollack
JUMP TO RECIPE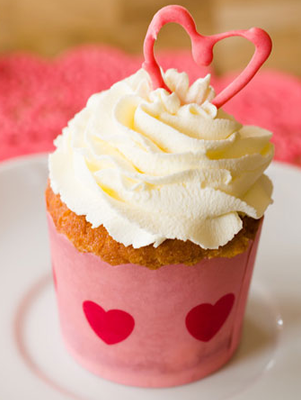 Difficulty: Easy
Prep time: 20 minutes
Cook time: 20 minutes
Servings: 16
Ingredients
Cupcakes
1½ cups sugar
¼ cup unsalted butter
7 ounces white chocolate chips, divided
2 large eggs, room temperature
⅔ cup whole milk
¼ cup vegetable oil
¼ cup + 2 tablespoons amaretto
1¾ cups all-purpose flour
1½ teaspoons baking powder
½ teaspoon baking soda
½ teaspoon salt
Amaretto Whipped Cream
1 cup whipping cream
2 tablespoons powdered sugar
1 tablespoon amaretto
Directions
Cupcakes
Preheat oven to 350˚ F.
In a medium-sized mixing bowl, mix together sugar and butter until fully combined.
Melt three ounces of the white chocolate chips in a double boiler or the microwave.
Mix melted white chocolate into the sugar/butter mixture. Mix in eggs, one at a time. Mix in milk, vegetable oil, and amaretto until fully combined.
In a separate mixing bowl, whisk together flour, baking powder, baking soda, and salt.
Add the dry ingredients to the wet ingredients in three additions, mixing until just combined. Fold in remaining four ounces of white chocolate chips.
Fill cupcake liners ⅔ full.
Bake for 20 minutes or until a toothpick inserted in the center of a cupcake comes out clean.
Amaretto Whipped Cream
In a medium-sized mixing bowl, whip heavy whipped cream until thick enough to hold its shape.
Mix in sugar until just combined. Mix in amaretto.
Pipe on cooled cupcakes.
Optionally, top with a piece of white chocolate.