Vanilla Bean Crêpes With Vanilla Mascarpone Filling
By
Paula Deen
JUMP TO RECIPE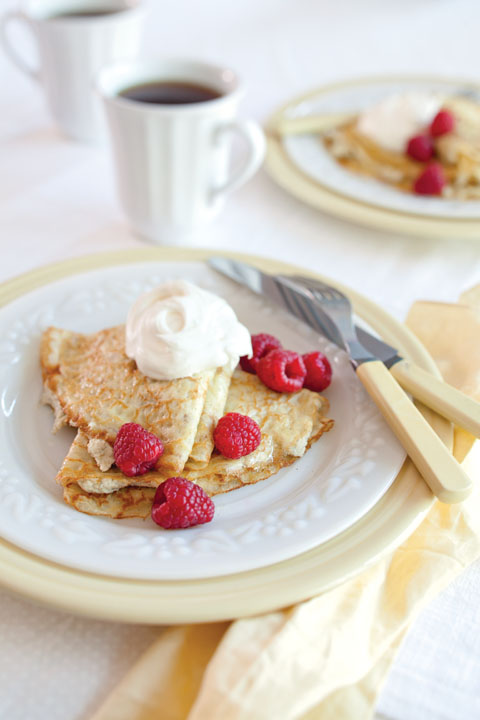 Difficulty: Medium
Prep time: 15 minutes
Cook time: 3.5 minutes per crepe
Servings: 12
Ingredients
Vanilla Mascarpone Filling
2 (8-oz) containers mascarpone cheese
1/4 cup brown sugar firmly packed
2 vanilla beans split lengthwise
Vanilla Bean Crêpes
2 tablespoons brown sugar, firmly packed
1 vanilla bean, split lengthwise
2 eggs
1 cup all purpose flour
1 1/2 cups milk
1/4 teaspoon salt
whipped cream, for garnish
raspberries, for garnish
Directions
Vanilla Mascarpone Filling
In a medium bowl, combine mascarpone cheese and ¼ cup brown sugar. Scrape seeds from 2 vanilla beans into mascarpone mixture; beat at medium speed with a mixer until smooth. Cover and refrigerate until ready to serve.
Vanilla Bean Crêpes
In the container of a blender, combine eggs, milk, flour, salt and remaining 2 tablespoons brown sugar. Scrape seeds from remaining vanilla bean into egg mixture. Process until mixture is very smooth, scraping down sides as necessary. Refrigerate batter for 1 hour.
Heat a 10-inch nonstick skillet over medium-high heat. Spray skillet with nonstick cooking spray. Pour about ¼ cup batter into skillet, and quickly swirl to coat bottom of skillet. Cook for 2 to 3 minutes or until edges start to crisp and brown. Loosen crêpe with a spatula, and carefully turn over; cook for 30 seconds longer. Repeat procedure with remaining batter, stacking crêpes on a plate. Cover with a damp paper towel until ready to assemble.
Spread about 3 tablespoons mascarpone filling over each crêpe. Fold each crêpe in half twice to form a wedge. Serve with whipped cream and raspberries, if desired.
Note: You can substitute 2 tablespoons vanilla bean paste, divided, for the 3 vanilla beans. Use 1½ tablespoons vanilla bean paste in mascarpone mixture and ½ tablespoon vanilla bean paste in crêpe batter.