Two Brothers' Chocolate Gobs
By
Paula Deen
JUMP TO RECIPE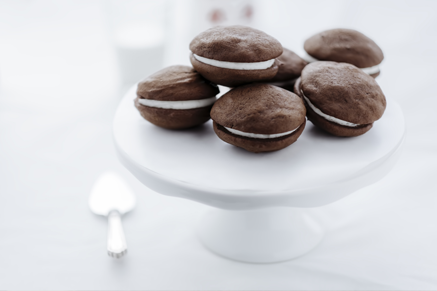 Difficulty: Easy
Prep time: 15 minutes
Cook time: 15 minutes
Servings: 15
Ingredients
3 cups divided sugar
1 cup divided vegetable shortening
2 eggs
1 cup buttermilk
1 cup boiling water
2 teaspoons divided vanilla extract
4 cups plus 5 tablespoons for filling all purpose flour
1/2 teaspoon baking powder
2 teaspoons baking soda
1/2 cup cocoa
1 cup milk
1/2 cup softened butter
Directions
Preheat oven to 425 °F.
In a large mixing bowl, cream together 2 cups sugar and 1/2 cup shortening until fluffy. Add eggs and continue to beat. Stir together buttermilk, boiling water, 1 teaspoon vanilla and blend this into the creamed mixture at low speed.
Sift together 4 cups flour, baking powder, baking soda and cocoa. Add to mixture one cup at a time, blending well at low speed. Batter will be very thin but do not worry. Drop by teaspoons onto ungreased cookie sheet. Bake for 5 minutes. Allow to cool and transfer onto wax paper.
To make the filling, place 5 tablespoons flour into saucepan and slowly add milk, stirring until smooth. Set over medium heat and cook, stirring until very thick. Remove from heat and allow to cool completely. In a medium bowl, cream together 1 cup sugar, butter, 1/2 cup shortening and 1 teaspoon vanilla using a handheld electric mixer. Add the cooled flour mixture and whip until fluffy. Spread onto bottom side of cookie and top with another cookie to make a sandwich. Wrap individually in plastic wrap and store in refrigerator.