Turkey Pot Pie
By
Paula Deen
JUMP TO RECIPE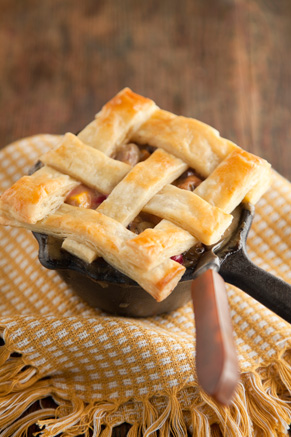 Difficulty: Easy
Prep time: 10 minutes
Cook time: 10 minutes
Servings: 10
Ingredients
1 sheet frozen puff pastry
1/2 cup milk
1 beaten egg
2 (11 oz) cans condensed cheddar cheese soup
2 (10.75 oz) cans cream of celery soup
1 large skinned, cooked, boned and cubed turkey
2 medium diced onions
2 cups cooked diced butternut squash
2 cups cranberry sauce
to taste salt and pepper
Directions
Preheat oven to 350 °F.
To make the crust, dust surface with flour. Cut 1 sheet of frozen puff pastry into 1-inch strips, 8 inches long. On a large cookie sheet, weave strips into a lattice large enough to cover each pot pie. Mix egg and milk together and brush onto each lattice square. Bake for 5 minutes. Dough will rise and turn light golden brown. Set aside until ready to assemble pies.
In a large saucepan heat the milk and soups. Stir in turkey, onion, squash, cranberries and salt and pepper. Bring mixture to a boil. In an oven-proof pot, fill with mixture and top with the pre-cooked lattice square. Bake at 350 °F for 5 minutes until bubbly and puff pastry is deep golden brown.
Cook's Note:
Cutting the puff pastry with a fluted-wheel creates elegant edges.
Good substitutions for cheddar cheese soup are cream of chicken soup and cream of mushroom soup.