Turkey Cranberry Cupcakes
By
Paula Deen
JUMP TO RECIPE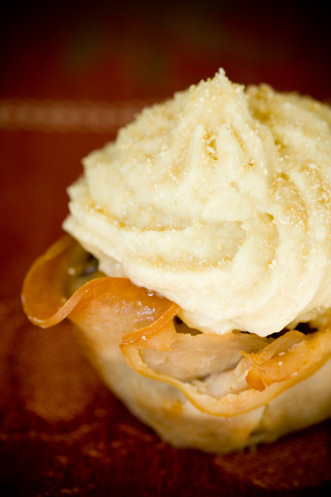 Difficulty: Easy
Prep time: 20 minutes
Cook time: 20 minutes
Servings: 20
Ingredients
2 cups flour
1 1/2 teaspoons baking powder
1/2 teaspoon baking soda
1 1/4 cups room temperature, divided unsalted butter
2/3 cup sugar
2 large eggs
2/3 cup plain yogurt
1/2 teaspoon vanilla extract
1 cup cranberry sauce
1 cup dried cranberries
18 thinly sliced pieces of turkey
1 1/2 cups sifted powdered sugar
1/4 cup maple syrup
Directions
For the Cupcakes:
Preheat oven to 325º.
Whisk flour, baking powder and baking soda in a bowl.
Beat 3/4 cup butter and sugar in a large bowl until light and fluffy.
Beat eggs, yogurt and vanilla into the butter/sugar mixture until blended.
Mix in cranberry sauce.
Fold in flour mixture until just combined.
Fold in dried cranberries
Place one slice of turkey in each well of the cupcake tin. Often, turkey slices will have small holes in them; make sure that any holes in the slices are not at the bottom or sides of the cupcake tin.
Spoon batter into the turkey, as shown in the photo.
Bake for 45 minutes or until a toothpick comes out clean. If you put this recipe into a normal cupcake liner sans turkey, it will bake in about 30 minutes.
For the Maple Buttercream Frosting:
Beat 1/2 cup butter and powdered sugar until light and fluffy.
Mix in maple syrup.