Tomato Pie
By
Paula Deen
JUMP TO RECIPE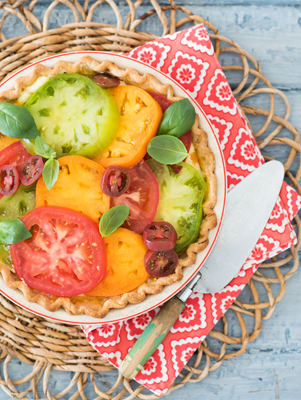 Difficulty: Easy
Prep time: 10 minutes
Cook time: 10 minutes
Servings: 10
Ingredients
1 (9 inch) baked pie crust
salt and freshly ground black pepper
2 tablespoons Dijon mustard
4 peeled and sliced tomatoes
4 oz grated white cheddar cheese
4 oz yellow grated cheddar cheese
1/2 cup mayonnaise
1/3 cup freshly grated Parmesan cheese
Directions
Preheat the oven to 350 °F.
Spread the inside of the pie crust with the mustard. Layer half of the tomatoes in the crust and sprinkle with salt and pepper. Top with the Cheddar. Mix together the mayonnaise and Parmesan and spread on top of the pie.
Bake until bubbly, about 20 minutes. Let cool. Top with remaining tomatoes. Serve at room temperature.