Three-Berry Corn Muffins
By
Deen Brothers
JUMP TO RECIPE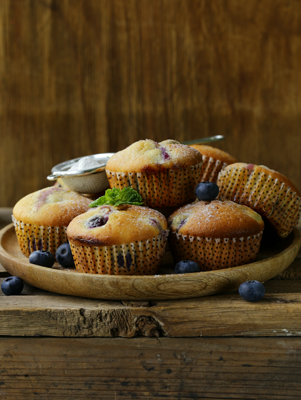 Featured in:
The Deen Bros. Recipes from the Road
Difficulty: Easy
Servings: 12 muffins
Ingredients
1 cup self-rising cornmeal mix
3/4 cup all-purpose flour
2 tablespoons sugar
1/4 teaspoon baking soda
1/8 teaspoon salt
1 cup sour cream
1/2 cup 1 stick unsalted butter
2 eggs
1/2 cup freshly grated hulled and sliced strawberries
1/2 cup blackberries
1/2 cup or pecans, roughly chopped blueberries
Directions
Preheat oven to 375°F. Grease a 12-cup muffin tin; set aside.
In a large bowl, whisk together the cornmeal mix, flour, sugar, baking soda, and salt. In a separate bowl, whisk together the sour cream, butter, and eggs. Stir the sour cream mixture into the cornmeal mixture until just combined. (Do not overmix.) Fold in the berries.
Divide the batter evenly among the prepared muffi n cups. Bake for 20 to 25 minutes or until golden and a toothpick inserted in the center of a muffin comes out clean. Let cool in pan for 5 minutes before removing and serving.