Three-Cheese Potato Gratin
By
Deen Brothers
JUMP TO RECIPE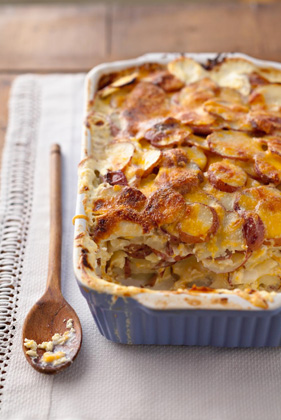 Featured in:
The Deen Bros. Y'all Come Eat
Difficulty: Easy
Servings: 6
Ingredients
Butter for coating dish
Salt
2 pounds red potatoes, sliced
3 ounces Gruyere cheese
3 ounces cheddar cheese
3 tablespoons freshly grated Parmesan cheese
Freshly ground black pepper
2 large eggs
2 cups half-and-half
Directions
Preheat oven to 400˚F. Butter a 1½-quart gratin dish or shallow baking dish; set aside.
Bring a large pot of salted water to a boil. Add the potatoes; cook for 4 minutes (they will not be tender); drain. In a small bowl, stir together the cheeses.
Arrange one-third of the potatoes in the bottom of the prepared dish. Sprinkle with salt, pepper, and one-third of the cheese mixture. Repeat with a second layer of potatoes, salt, pepper, and half the remaining cheese mixture. Arrange the remaining potatoes on top.
In a separate bowl, whisk together the eggs. In a small saucepan (preferably one with a lip for pouring), heat half-and-half until steaming. Whisking constantly, slowly pour the half-and-half into the eggs. (If the eggs curdle slightly, just strain the mixture.) Season the egg mixture with salt and pepper; pour evenly over potatoes. Sprinkle potatoes with the remaining cheese mixture. Bake for 30 to 40 minutes or until the potatoes are tender and
the top is golden. Let stand for 10 minutes before serving.