The Son's Cheese Biscuits
By
Deen Brothers
JUMP TO RECIPE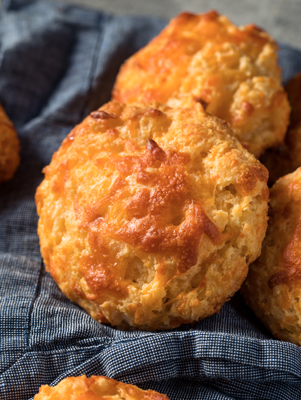 Difficulty: Easy
Prep time: 10 min
Cook time: 15 min
Servings: 16 servings
Ingredients
Nonstick cooking oil spray
1/4 cup olive oil
2 cloves garlic
5 cups biscuit mix
2 cups low-fat 1-percent milk
1/2 cup reduced-fat shredded Cheddar
1/2 cup shredded Monterey Jack cheese
Directions
Preheat the oven to 375 degrees F. Spray a baking sheet with nonstick cooking spray .
For the garlic oil: Heat the oil in a small saucepan over medium-low heat. Add the garlic and saute until browned, 2 to 3 minutes. Remove from the heat and let cool
For the biscuits: Pour the biscuit mix into a large bowl and gradually mix in the milk. Stir together until desired consistency is reached, add then stir in the cheeses. Scoop the batter with an ice-cream scoop and drop onto the prepared baking sheet. Brush each biscuit with 1 teaspoon of the garlic oil. Bake for 10 minutes, and then brush with the garlic oil again before serving.