The Real Deal Gumbo
By
Paula Deen
JUMP TO RECIPE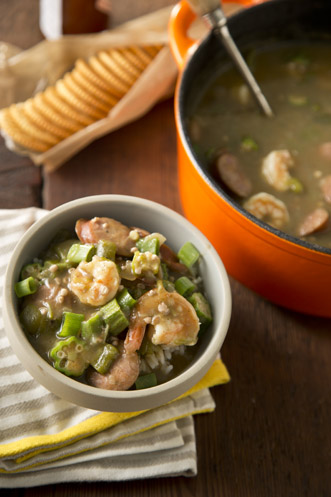 Difficulty: Easy
Prep time: 10 minutes
Cook time: 10 minutes
Servings: 10
Ingredients
1 tablespoon vegetable oil
1 cup fresh or thawed frozen chopped okra
3 tablespoons butter
3 tablespoons all purpose flour
1 large chopped yellow onion
1 large chopped green bell pepper
1 tablespoon chopped garlic
1 tablespoon chopped garlic
4 cups chicken broth
3/4 lb sliced andouille or other smoked sausage
1 teaspoon Cajun seasoning
salt
black pepper
1 lb peeled and deveined large shrimp
4 cups for serving cooked rice
for serving hot sauce
Directions
1. In a small skillet, heat the oil over medium heat. Add the okra and cook, stirring frequently, until no longer slimy, about 3 minutes. Set aside.
2. In a large saucepan, melt the butter over medium heat. Whisk in the flour and cook, stirring constantly, until it is a light chocolate color, about 5 minutes (this is the "roux").
3. Add the onion, bell pepper and garlic and cook for 2 minutes. Add the broth, sausage and Cajun seasoning and bring to a boil. Reduce the heat to a simmer, cover, and cook for 20 minutes. Season to taste with salt and black pepper.
4. Add the shrimp and simmer until they are pink and cooked through. Serve over the rice. Pass hot sauce at the table.