The Fruitcake Lady's Sunday Dinner Herbed New Potatoes
By
Paula Deen
JUMP TO RECIPE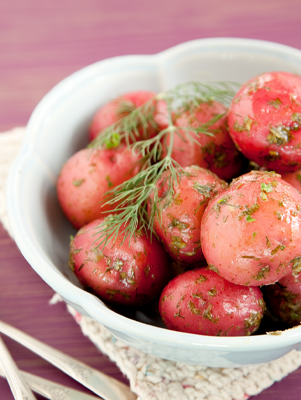 Difficulty: Easy
Ingredients
1 1/2 pounds new potatoes
4 tablespoons unsalted butter
salt
1 tablespoon lemon juice
3 tablespoons snipped parsley
1 tablespoon chopped fresh chives
2 heads snipped (about 2 tablespoons) fresh dill
in a mill whole white peppercorns
Directions
Scrub the potatoes with a coarse brush under cool running water. Peel away a strip of the skin from around the middle of each potato, leaving the remaining skin intact.
Put the potatoes in a large pot and add enough water to cover them by an inch. Remove the potatoes, cover the pot, and bring the water to a boil over medium-high heat. Add a small handful of salt, and carefully return the potatoes to the pot. Loosely cover, let it come back to a boil, adjust the heat to a steady simmer and cook until the potatoes are just tender, about 12-25 minutes, depending on their size. Drain and return them to the pot.
Melt the butter in a small pan over medium low heat and add the lemon juice, parsley, chives, and dill. Pour it over the potatoes, add a light grinding of white pepper, and gently shake the pot (or stir) until they are evenly coated with the butter-herb mixture. Pour the potatoes into a warm serving bowl and serve at once.