Spiced Holiday Fruitcake
By
Paula Deen
JUMP TO RECIPE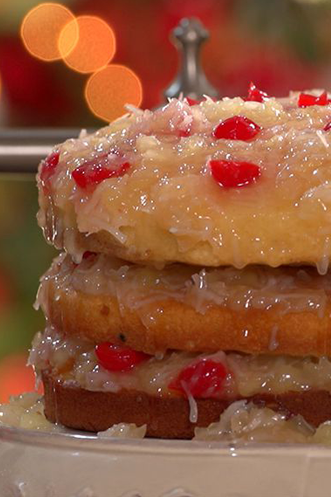 Difficulty: Medium
Prep time: 30 minutes
Cook time: 30 minutes
Servings: 30
Ingredients
1 cup softened butter
4 cups divided sugar
4 eggs
3 cups all purpose flour
2 teaspoons baking powder
1/2 teaspoon salt
1 cup milk
2 teaspoons vanilla extract
2 teaspoons ground cinnamon
1/2 teaspoon ground cloves
1/2 teaspoon ground allspice
1/2 cup raisins
1/2 cup coarsely chopped pecans
2 tablespoons cornstarch
1 cup boiling water
1 (13 oz) can drained crushed pineapple
1 1/2 cups sweetened shredded coconut
2 zested and juiced lemons
1 cup halved maraschino cherries
Directions
Preheat the oven to 350º.
Prepare 3 9-inch cake pans, by greasing and flouring them.
In the bowl of an electric stand mixer, add the butter and 2 cups of sugar, cream together until fluffy. Add the eggs one at a time, beating well after each addition. In separate medium bowl, stir together the flour, baking powder and salt. Add the flour mixture alternating with the milk each time into the creamed butter and sugar mixture, make sure to end with the flour. Add the vanilla and mix well.
Divide the batter into thirds. Pour two thirds into each of the prepared cake pans. To the remaining one third batter, add the spice layer (cinnamon, clove, allspice, raisins and pecans) and fold to combine completely. Pour over the existing batter in the cake pans.
Bake at 350º for 25-30 minutes, or until an inserted toothpick comes out clean. Let cool in the cake pans for 10 minutes, then remove to wire rack.
Meanwhile, while the cakes are baking, prepare the filling/topping. In a medium sauce pot over medium heat; add 2 cups sugar, cornstarch, boiling water, stir until blended; add the pineapple, coconut, zest and juice of the lemons, let cook over medium until thickened. Remove from heat, allow to cool slightly and stir in the cherries.
When assembling the layers, start with 1 cake, spread an even layer of the filling over top and repeat with each cake layer, finishing with the fruit topping.