Holiday Spice Cake
By
Paula Deen
JUMP TO RECIPE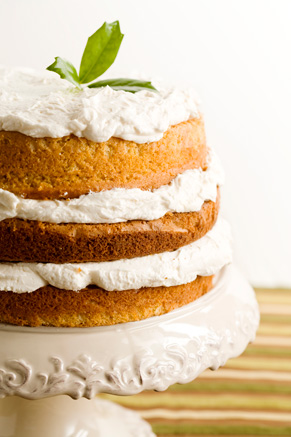 Difficulty: Medium
Prep time: 15 minutes
Cook time: 15 minutes
Servings: 15
Ingredients
3 cups cake flour
2 teaspoons baking powder
1 teaspoon baking soda
1 teaspoon ground nutmeg
1 teaspoon ground cinnamon
1 teaspoon ground ginger
1/2 teaspoon ground cloves
2 sticks softened, plus 3/4 cup softened for frosting butter
2 cups sugar
1/2 teaspoon salt
4 eggs
1 1/4 cups buttermilk
1/4 cup shortening
6 cups confectioner's sugar
1 1/2 teaspoons vanilla extract
1/2 cup heavy cream
for topping cocoa powder
finely chopped for topping nuts
Directions
Preheat oven to 350 °F. Butter and flour 3 (8-inch) round cake pans.
In a small mixing bowl whisk together cake flour, baking powder, baking soda, ground nutmeg, ground cinnamon, ground ginger and ground cloves.
Cream the 2 sticks butter, sugar and salt until light and fluffy with an electric mixer. Beat in the eggs, 1 at a time, beating well after each addition. Beat in the dry ingredients and the buttermilk alternately beginning and ending with the dry.
When the batter is well mixed and smooth, divide it amongst the 3 prepared cake pans and bake about 25 minutes or until a toothpick inserted into the center of the cakes come out clean. Let cool in the pan for 10 minutes then turn out to cool completely. If the cake layers have domed a little during the baking process, slice off the tops with a long serrated knife so they are flat and even.
Place the first layer, cut side down, on a cake pedestal or serving plate. Spoon about 3/4 cup of butter cream onto the center of the cake. Spread it almost to the very edges with an offset spatula. Repeat with the remaining 2 layers. Garnish the top of the cake with finely chopped nuts and cocoa powder.
Quick Butter Cream:
Beat 3/4 cup butter, shortening and salt together until creamy with an electric mixer. Add half the confectioners' sugar and beat until light and fluffy, about 5 minutes. Combine the vanilla extract and heavy cream. Gradually beat in the remaining confectioners' sugar alternating with the cream mixture until it is all incorporated and the frosting is very light and fluffy.