The Deen Brothers' Deep-Dish Pizza
By
Deen Brothers
JUMP TO RECIPE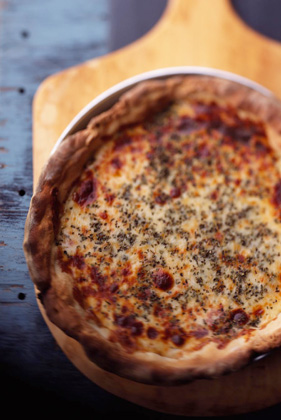 Featured in:
The Deen Bros. Recipes from the Road
Difficulty: Easy
Servings: 4
Ingredients
1 tablespoon olive oil
1 1-pound ball frozen pizza dough
Large pinch salt
1 pound mozzarella cheese
1 cup tomato-basil pasta sauce
1 teaspoon dried oregano
Directions
Preheat oven to 500°F. Brush a 10-inch round cake pan with 2 teaspoons of the oil. Roll the dough into a 14-inch circle. Transfer the dough to the prepared pan, pushing it up the side and over the edge of the pan. Pinch the dough over the edge of the pan to seal it there. Brush the dough with the remaining 1 teaspoon oil and sprinkle with salt. Prick the dough all over with a fork. Bake about 10 minutes or until set. Remove from oven. Reduce oven temperature to 400°F.
Spread half of the cheese over the pizza dough. Spoon the tomato sauce over the cheese and top with the remaining cheese. Sprinkle the oregano evenly over the cheese. Bake for 10 to 15 minutes or until the crust is golden and the cheese is bubbling. Let stand a few minutes before slicing.