The Deen Bros. Lighter Chocolate Mousse
By
Paula Deen
JUMP TO RECIPE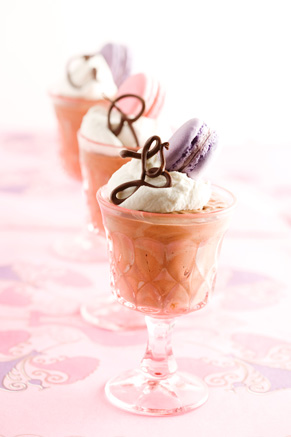 Difficulty: Easy
Ingredients
3/4 cup semisweet chocolate chips
1/3 cup fat-free milk
1/2 teaspoon almond extract
3 tablespoons sugar
3 tablespoons water
2 large egg whites
1/4 teaspoon cream of tartar
1 1/2 cups thawed frozen fat-free whipped topping
Directions
Place the chocolate chips and milk in a medium microwavable bowl and microwave on High, stirring at 30 second intervals, until the chocolate is melted and smooth, about 1 minute. Stir in the almond extract. Let cool completely.
Place the sugar, water, egg whites, and cream of tartar in the top of a double boiler. Beat with a handheld electric mixer until foamy, about 1 minute. Place the pan over simmering water (make sure the simmering water does not touch the bottom of the top pan) and beat on high speed until stiff peaks form, about 5 minutes. Remove from heat and continue beating until the mixture is cooled, 3 – 4 minutes longer.
Fold in the cooled melted chocolate and whipped topping. Spoon into goblets and refrigerate until well chilled, about 1 hour.
Test Kitchen Tip
If you prefer, omit step 2 and use powdered egg whites or meringue powder instead of raw egg whites. Prepare according to package directions using 4 teaspoons egg white or meringue powder beaten with 1/4 cup warm water until stiff peaks form. You can find powdered egg whites or meringue powder in the baking section of most supermarkets, kitchen shops, or crafts stores.
Original recipe courtesy Paula Deen: Chocolate Mousse