Tennessee Whiskey Fruit and Nut Bars
By
Deen Brothers
JUMP TO RECIPE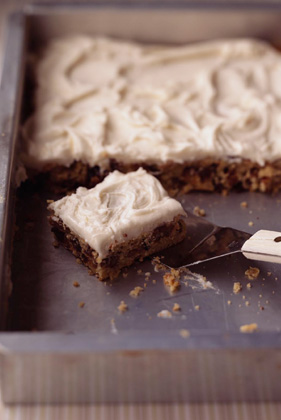 Featured in:
The Deen Bros. Recipes from the Road
Difficulty: Easy
Servings: 24 bars
Ingredients
1 1/2 cups all-purpose flour
3/4 teaspoon baking powder
1/4 teaspoon salt
2/3 cup butter
3/4 cup packed brown sugar
1 1/2 teaspoons vanilla
2 large eggs
1/3 cup Tennessee whiskey
1 cup chopped pecans
1/2 cup golden raisins
1/2 cup semisweet chocolate chips
3 1/2 cups confectioners' powdered sugar
6 tablespoons butter
3 tablespoons Tennessee whiskey
1 teaspoon vanilla
24 pecan halves optional
Directions
Preheat oven to 350°F. Grease a 9-by—13-inch baking pan; set aside.
For the bars, in a bowl, combine flour, baking powder, and salt. With an electric mixer, cream together the 2/3 cup butter, the brown sugar, and 1 1/2 teaspoons vanilla until fluffy. Beat in the eggs, one at a time. Alternately add the fl our mixture and the 1/3 cup whiskey in three additions, mixing until fully combined after each addition. Fold in chopped nuts, the raisins, and chocolate chips. Spread the batter in the prepared pan. Bake for 20 to 25 minutes or until a toothpick inserted in the center comes out clean. Let bars cool in the pan on a wire rack.
For the frosting, in a large bowl, beat together the confectioners' sugar, the 6 tablespoons butter, 3 tablespoons whiskey, and 1 teaspoon vanilla until smooth. Add additional whiskey, if necessary, to make a frosting of spreadable consistency. Spread the frosting over the cooled bars. Cut into squares and, if desired, top each square with a pecan half.