Tastes Like Lasagna Soup
By
Paula Deen
JUMP TO RECIPE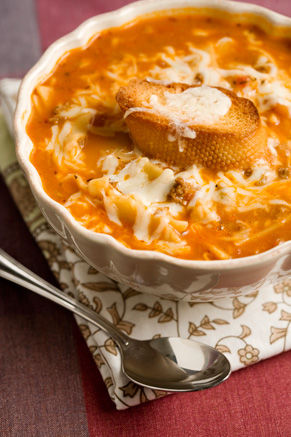 Difficulty: Easy
Prep time: 10 minutes
Cook time: 10 minutes
Servings: 10
Ingredients
1 lb ground chuck
1 chopped onion
1 chopped green bell pepper
3 cloves minced, plus 2 cloves smashed garlic
1 teaspoon thyme
1 tablespoon firmly packed brown sugar
1 (32 oz) box chicken broth
2 (14.5 oz) can petite diced tomatoes
1 (15 oz) can tomato sauce
2 teaspoons Italian seasoning
1/2 teaspoon salt
2 cups broken lasagna noodles
1 (5 oz) package grated Parmesan cheese
2 cups shredded mozzarella cheese
1 thin French baguette
1/2 cup extra virgin olive oil
Directions
In a large Dutch oven, combine ground chuck, onion, bell pepper and 3 cloves minced garlic. Cook over medium-high heat for 8 to 10 minutes, stirring occasionally until beef is browned and crumbles. Drain well.
Stir in thyme, brown sugar, broth, diced tomatoes, tomato sauce, Italian seasoning and salt. Bring to a boil over medium-high heat; reduce heat and simmer 20 minutes. Add noodles, and simmer until noodles are tender. Stir in Parmesan cheese.
Preheat broiler. Ladle soup into 8 to 10 ovenproof bowls. Evenly sprinkle with mozzarella cheese. Broil soups, 6-inches from heat, 3 to 4 minutes, until cheese is browned and bubbly. Add a garlic crostini slice on top. Serve immediately.
For the garlic crostini:
Preheat oven to 350 °F.
Cut bread into 1/4-inch round slices. Place on baking sheet and brush each slice with olive oil. Season with salt and pepper; place in oven and bake until golden and crisp, about 15 minutes. Remove from oven and let cool slightly. Rub each side with 2 smashed garlic cloves.