Sweetened Tea with Simple Syrup
By
Paula Deen
JUMP TO RECIPE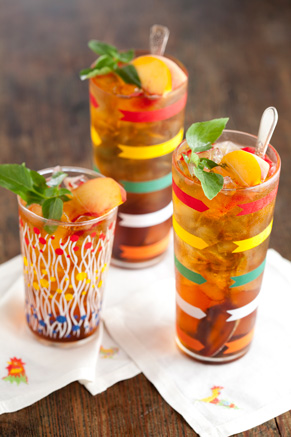 Difficulty: Easy
Prep time: 10 minutes
Cook time: 10 minutes
Servings: 10
Ingredients
1 part water
1 part sugar
unsweetened tea
for flavor peaches
for flavor strawberries
for flavor raspberries
sprig optional mint
Directions
Dissolve equal parts sugar with water by boiling the mixture, until it coats your spoon.
To make a flavored simple syrup, cook peaches, strawberries or raspberries with simple syrup. Strain into a pitcher, and add desired amount to your tea, or you can freeze flavored simple syrup in an ice cube tray. Add desired amount of ice cubes to your tea. (This prevents your ice tea from being watered down.)
If you're flavoring your tea with peaches, garnish with a slice of fresh peach and a sprig of fresh mint.