Sweet Potato Chili Cakes With Cilantro Lime Sauce
By
Jamie Martin
JUMP TO RECIPE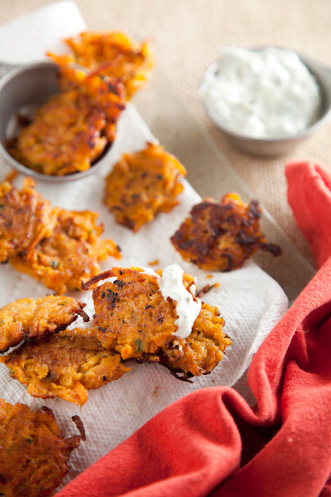 Difficulty: Easy
Prep time: 15 minutes
Cook time: 15 minutes
Servings: 15
Ingredients
4 cups peeled and grated sweet potatoes
1/2 seeded and diced jalapeño
3/4 cup all purpose flour
3/4 teaspoon baking powder
3/4 teaspoon kosher salt
1/2 teaspoon chipotle chili powder
1/2 teaspoon ground cumin
1/4 teaspoon black pepper
1/4 cup whole milk
1 large lightly beaten egg
for frying olive oil
1 (8 oz) container sour cream
1/2 cup minced, for sauce, plus more chopped for garnish cilantro leaves
1 zested and juiced lime
1 pinch salt
Directions
In a large bowl, combine the sweet potatoes, jalapeño, flour, baking powder, salt, chili powder, cumin and black pepper.
In a small bowl lightly beat the milk and egg until well mixed. Add to the sweet potato mixture, stirring, until all the ingredients are well combined.
Heat a large skillet over medium heat and add enough vegetable oil to cover bottom of skillet. Drop the sweet potato mixture, by rounded teaspoonfuls, into the hot oil. Press lightly to flatten the mixture to the size of a half dollar. Cook until the cakes are golden brown, about 1 to 2 minutes on each side. Transfer the cakes to a serving platter. Top each cake with a small amount of Cilantro Lime Cream Sauce and garnish with fresh cilantro.
Cilantro Lime Cream Sauce:
In a small bowl, combine the sour cream, cilantro, lime zest, lime juice and a pinch of salt. Cover and refrigerate until ready to serve.