Sweet Potato Buttermilk Cornbread
By
Paula Deen
JUMP TO RECIPE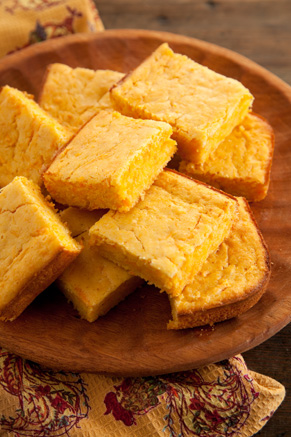 Difficulty: Easy
Prep time: 10 minutes
Cook time: 10 minutes
Servings: 10
Ingredients
1 cup all purpose flour
1 cup cornmeal
1/4 cup sugar
3 teaspoons baking powder
1 teaspoon salt
1/4 cup butter
1 egg
1 cup buttermilk
1 1/2 cup peeled and grated sweet potatoes
Directions
Preheat oven to 425º.
In a large bowl, combine flour, cornmeal, sugar, baking powder and salt. Cut in butter with two forks, a pastry cutter or your fingers until mixture is crumbly.
In a medium mixing bowl beat egg until frothy. Stir in buttermilk and sweet potatoes. Pour mixture into flour mixture stirring just until blended. Pour batter into greased 9x9x2 inch baking dish.
Bake 20 minutes or until center springs back when pressed. Cool in pan on wire rack. Cut into squares and serve.
Notes from the Paula Deen Test Kitchen: A moist cornbread with a lovely flavor. Great to serve as a side to your slow cooker recipes. Flavor profiles worked best with pork and beef dishes.