Sweet Merlot Beef Stew
By
Paula Deen
JUMP TO RECIPE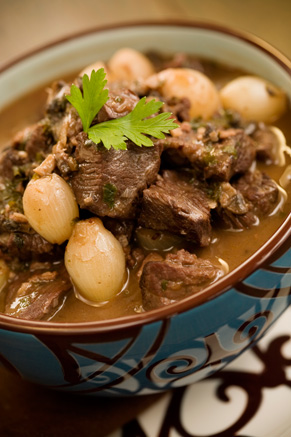 Difficulty: Easy
Prep time: 10 minutes
Cook time: 10 minutes
Servings: 10
Ingredients
4 slices rendered bacon
2 lbs cut into 2" pieces chuck roast
1 1/2 teaspoons salt
2 tablespoons flour
1/4 cup Paula Deen Merlot Steak Sauce
1 1/2 cups red wine
1 1/2 cups water
1 teaspoon fresh thyme
2 cloves minced garlic
1 lb pearl onions
1/2 lb chopped button mushrooms
2 tablespoons chopped fresh parsley
Directions
In a medium sauté pan fry bacon until crisp. Remove bacon and reserve. Brown beef slowly on all sides in the bacon fat. Sprinkle with salt, pepper and flour. Toss to coat evenly.
Place beef in a heavy 4 qt saucepan.
Add reserved bacon (chopped), Paula Deen Merlot Steak Sauce, wine, water, thyme and garlic.
Cover and cook over low heat for 1 hour. Add onions to stew and cook for an additional 30 minutes.
In the final 10 minutes, add the mushrooms and parsley. Add additional water if necessary. Salt and pepper to taste. Serve along side crusty tuscan bread for dipping.